Dragon Sutra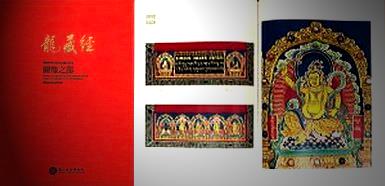 Tibetan-language edition,
hand-copied in gold ink K'ang-hsi reign(1661-1772),
Ch'ing dynasty¡XIlluminations
This Dragon Sutra manuscript was completed more than three centuries ago in the 8th year of the reign of Qing Emperor Kangxi (1669 AD). Completely intact, the sutra has been copied on celadon blue stationery, with each page measuring 87.5 cm. by 33 cm. Written in gilt standard Tibetan script on both sides of the paper, the voluminous manuscript is 108 sets in all, comprising some 50,000 sheets or 100,000 pages. The sutra contains the Kangyur, the Tibetan translation of the teachings of Sakyamuni. Together with the Tengyur, it forms the 。ァTibetan Canon,。ィ which Tibetan Buddhism has elevated to the holy status of a dharma treasure. Needless to say, its academic value has long been well recognized. What makes the manuscript special are the colored Buddha images on the top and bottom frames of each set. A total of 756 image representations are found in the whole manuscript. If we discount the repetitive, there are still more than 520 of these representations that include Buddhas, bodhisattvas, dharmapalas, patriarchs and arhats. There are representations of double-bodied angry Tantric Buddhas as well as sutra holy ones rapped in blissful meditation. In the religious sense, Tibetan Buddhist images are the objects of devotion and meditation by followers. Their colors and dimensions, poise and accessory objects, all signify deep religious teachings, for which they cannot accommodate the slightest of mistakes. For this reason, paintings in this manuscript were made in accordance with classical rubrics both in their details and in totality. In the artistic sense, each painting is special in manner of execution and layout. Done in delicate brushstrokes and vibrant, rich colors, they combine the artistic essences of Chinese and Tibetan artistic styles while at the same time embodying the principles of perspective and lighting adopted in Western painting. It is a fine masterpiece jointly accomplished by early Qing Dynasty Tibetan painters and their Chinese and Manchurian artist collaborators. Having said that, the paintings in this collection allow not just a visual appreciation of the best examples of Tibetan Buddhist image paintings, but likewise provide a rich material for the study of palace paintings in the early Qing period.